IN THESE TIMES…
FOODBANKS… STANDING IN THE GAP OR IN THE WAY?
Churches are the lead agency in foodbank provision as food poverty escalates. Is the desire to help overshadowing a need to protest?
Guest Speaker: Lynda Gould
Venue: The Ulster University New Campus, York Street, Belfast
Block BD First Floor Room
Thursday 2nd November 2023
Tea/coffee from 6.30pm. Programme will run 7.00-8.45pm
We invite you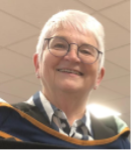 to join us to explore aspects of this important issue. Lynda Gould is our Keynote speaker. Lynda is the Project Co-ordinator for Faith Engagement in NICVA, and a former staff member in ECONI. She recently completed research on this subject and will share her insights and challenges.
Please plan to join us for this evening.
Transport: Metro buses serve the Ulster University York Street Campus and off street car-parking is available.
Two disabled car park spaces are adjacent to the entrance.
For further information please contact: info@contemporarychristianity.net or telephone (028) 9066 3145.
To download a printable .pdf version of this event to advertise in your church, click here.